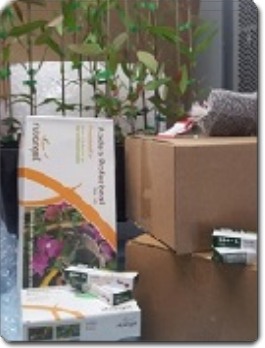 Delivery Information

We think it's very important that when ordering through the internet that delivery is efficient, safe and economical. Please find below details of how we prepare and deliver your order:

Delivery Charges

Our delivery prices are automatically generated during process depending on the product sizes in your order. You will be able to see the exact charge once you have entered your delivery address before payment.

Our prices vary depending on the size and type of product, all our charges are at cost to us to give you the best price.

These are prices for UK MAINLAND, see below for Offshore Islands, Northern Ireland & Highlands:

Tape Tying Products & Tree Accessories: Via Royal Mail 2nd Class from £1.00 (1st Class can be requested)



Eucalyptus Tree Products:

The shipping of live trees takes careful prepartion and specialised packaging. Each tree is packed into an individual and custom box cut to size.


Tree Shipping Prices UK MAINLAND (exc. Highlands)


| Tree Size | First Tree | per additional Tree |
| --- | --- | --- |
| Planting Stock | £7.75 | FREE |
| 3 Litre Pot | £9.50 | £6.00 |
| 9L 60-90cm | £11.00 | £11.00 |
| 9L 90-120cm | £12.50 | £12.50 |
| 9L 120-150cm | £15.00 | £15.00 |
| 9L 150-180cm | £19.00 | £19.00 |
| 9L 180-210cm | £20.00 | £20.00 |
| 9L 210-260cm | £20.00 | £20.00 |


If you are planning to order multiple items you can contact us for a shipping quote and we will get our best price from the couriers for you.


Willow Whips Shipping Prices UK MAINLAND (exc. Highlands)

| Willow Height | 10 to 100 Whips | per additional 100 Whips |
| --- | --- | --- |
| 120cm/4ft | £12.95 | FREE |
| 150cm/5ft | £12.95 | FREE |
| 180cm/6ft | £18.95 | £4.00 |
| 210cm/7ft | £18.95 | £5.00 |
| 240cm/8ft | £18.95 | £6.00 |
| 270cm/9ft | £18.95 | £7.00 |
| 300cm/10ft | £18.95 | £8.00 |
Living Willow Kits Shipping Prices UK MAINLAND (exc. Highlands)


| Kit Type | First Kit | per additional Kit |
| --- | --- | --- |
| Structures (Dome, Tunnel etc.) | £18.95 | FREE |
| Classroom Kits | £18.95 | FREE |





International, Europe & UK Non-Mainland



Delivery charges generated during checkout only apply to deliveries to UK Mainland (exc. Highlands).


For larger items delivered to Scottish Highlands please contact us for a shipping quote before ordering. This applies for postcodes: AB1-3, AB9-16, AB21-25, AB31-38, AB41-45, AB51-56, DD1-5, DD7-11, FK19-21, IV1-IV32, IV36, IV40-49, IV51-56, IV63, KW1-17, KY13, PA20-49, PA60-78, PH1-10, PH15-26, PH30-44, PH49-50. Smaller items (via Royal Mail) will be normal shipping prices.

For ALL orders to Northern Ireland, Scilly Islands, Isle of Man, Isle of Wight, Scottish Offshore Islands and Channel Islands please contact us for a shipping quote before ordering.


European Union: While the UK is still in the EU we are able to ship to any other country within the EU, you can contact us for a shipping quote.

Be aware - Any orders being shipped outside of the UK are done so at the recipients own risk. This will be a carrier option chosen by the customer and we will therefore not be liable for damaged or lost items and be unable to offer refunds or replacements.

We are only able to offer international shipping of our trees on the agreement of these terms.

International Shipping: We regret that we are unable to ship any Eucalyptus outside of the European Union due to regulations regarding the export of soil, compost and woody material.

Shipping Method


We use an array of shipping couriers depending on the size and weight of your order. For smaller packages we use Royal Mail and APC. For larger tree orders we use couriers like FedEx, DPD and UPS.

As many of the packages will require a signature upon delivery we strongly recommend leaving us with a 'Safe Place' your package can be left, otherwise in the event that no one is in to receive and sign for the package it will be returned to the depot for re-delivery another day.


Shipping Live Trees

We usually send out our large trees on Mon - Thurs, though shipping over weekends can be requested.

Any trees ordered on a Thursday or Friday may not be shipped until the following Monday.

Packaging
We take care and pride in our packaging and have received compliments from customers! Our packaging is sturdy and safe to ensure your order reaches you in the same condition that it left us. The cost of all packaging is included in the shipping price.




Receipt of Package



As with all packages please try to look for any signs of damage before you sign for it and report any damage to the delivery person. Take photos of the damage before opening and get in touch if the products inside have been affected.


Collecting Your Order From Us

If you live locally or are in the area you are welcome to collect your order. If you are ordering through the website simply select the 'Collection' option during checkout. It's essential you let us know a rough time frame of your collection so we can get everthing ready for collection.


Finally...

Please contact us immediately if you have any concerns regarding your order.